Summer 2019!
Submitted by becky on Fri, 05/24/2019 - 15:23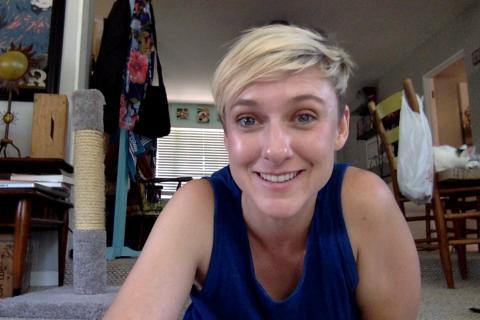 Hi Folks!
Here's a quick update on my activities this summer!
I just wrapped up a fantastic semester!  I taught Stage Movement for the Actor and Survey of Technical Theatre at Valencia College.  I directed the puppetry for Avenue Q at Daytona State and for Hand to God at Mad Cow Theatre.  Then I directed the entire production of "The Importance of Being Earnest" at Seminole State College.  It was an incredible experience!  While doing that, I also worked as AD and movement and puppetry coach for Opera Orlando's production of Noye's Fludde.  It was a full and inspiring spring.
This summer I just opened "War Paint: The Play" at the Orlando International Fringe Festival.  The play was written and is performed by Lily Garnett.  I facilitated the play's development and directed the magnificent Lily in the show.  This show will tour two more Fringe festivals this summer, and it's getting great reviews here in Orlando!
Additionally, I am working as movement designer for Mad Cow's production of "Once: The Musical."  We open on June 7th.
Following that, I will be teaching a summer theatre camp at Rolann's School of the Dance during the month of June.
On June 27th, I am part of a performance at the Timucua Foundation's White House.  I have composed and directed one of the 4 pieces in this original experience:  3 stories.  We are in development as I type this!
Right now July is pretty quiet, but the fall is looking very full and inspiring!
I am scheduled to teach:
Valencia College:  Movement for the Actor, Acting 1
Seminole State College:  Movement for the Actor
Rollins College: Dance Improvisation
Rolann's School of the Dance:  Movement for the Actor
Opera Orlando:  Stage Movement
I am scheduled to direct:
Phantasmagoria: Director of Puppetry
Opera Orlando:  Amahl and the Night Visitors
I am scheduled to create:
Creative City Project:  Original Installation Development
I am scheduled to present:
ATHE: What is the role of the self producing artist in a traditional theatre program?
Corporate Training: Various bookings around the country.
In the midst of all of this, I am increasingly interested in facilitation professional theatres in their use of puppetry.  If you know of a theatre who has added a puppet-heavy show to their season, please get us in touch.  Friends don't let friends present bad puppetry :-)  
For regular updates, you can find me:
On Instagram:  https://www.instagram.com/rebekah.lane.mfa/
On Facebook:  https://www.facebook.com/Rebekah-Lane-Theatre-Artist-and-Teacher-3289783...