Workshops and Private Coaching
Mindful Momentum:
Additional Workshops*
Workshops described run about 2 hours each.  Workshop contents, duration, and focuses are easily adjusted based on the needs of the ensemble or students.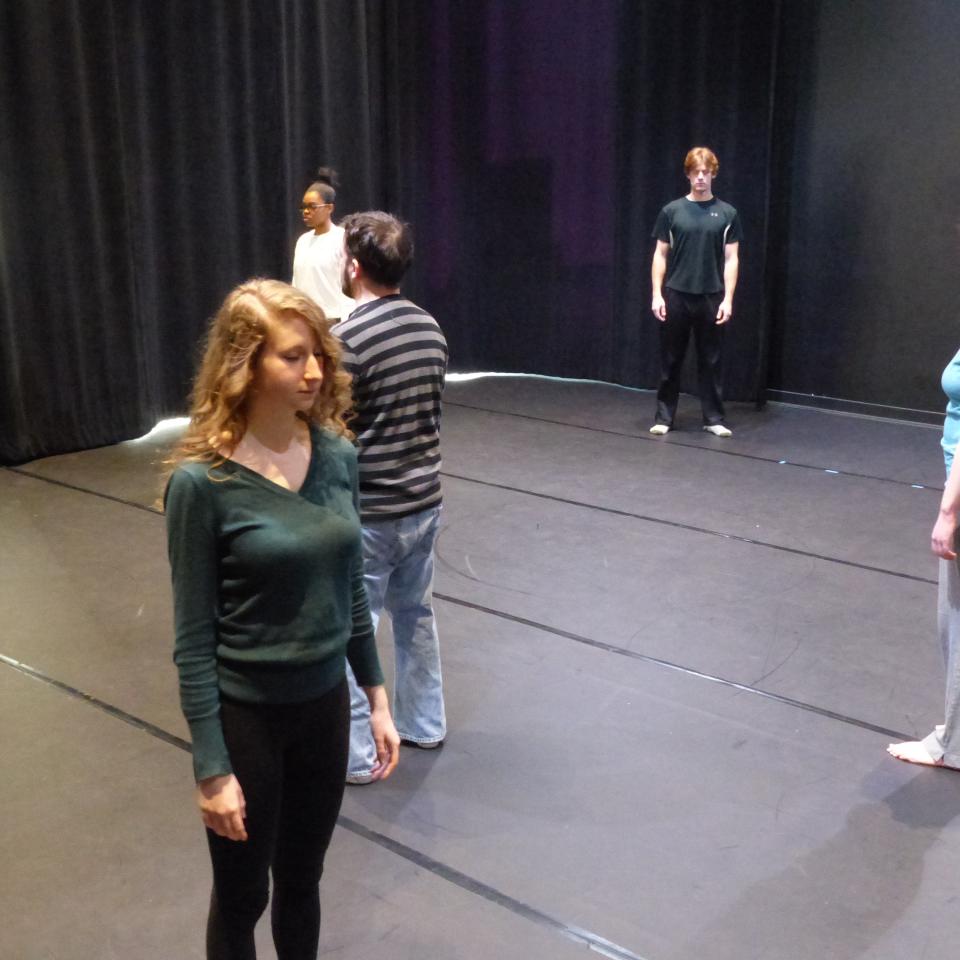 Viewpoints 
This workshop is excellent as actor training or as a discovery tool for your ensemble.  I lead participants through the Viewpoints process developed by Ann Bogart.  The focus of the exercises can be adjusted based on the needs of the group.
Voice and Movement Integration with Viewpoints and Lessac 
In This workshop we explore the possibilities of our bodies and voices through the combined process and vocabulary on the physical aspects of Viewpoints and the tonal approach emphasised by Lessac's voice work.  This workshop is excellent for all levels of performers
Laban Movement for Actors
In this workshop we explore quality of movement.  We consider how characters can be built from movement details,a nd how those details can inform our inner life.  We will cover the building tools for the Action Drives and  some of the Bartineff Fundamentals.
Puppetry:  Puppetry Essentials through Mask and Scarf Puppets
Puppetry:  Table-top Puppetry
In this workshop participants will build their own table-top style puppet and learn to manipulate it independently and with a group.
Object Puppetry Theatre: The Artist's Approach to Research 
This workshop is based on the creative approach of Marionettist Albrecht Rosser.  Participants are led through a process of discovery and reflection.  Exercises begin with study of the physical body and progress to study of objects.  Respect for the material is the major theme emphasised.  
Public Speaking:  Delivery Tool Belt 
Participants are led through 6 delivery activities.  Three of the activities relate to physical delivery and three relate to vocal delivery.  Students reflect on what makes each individual skill effective, what they feel they do well, and what options they see for personal improvement.  Additional guidance is provided bt he facilitator.
Public Speaking: Structure to help 'em Remember
When I give a presentation, I want my audience to remember what I said.   I'm sure you feel the same way!  In this workshop. participants are introduced to structural components essential for presentations.  We talk about how to craft a strong introduction, how to incorporate repetition without sounding cheesy, and how to wrap your presentation up with a bang.  Participants are asked to bring a sample, personal presentation to work with throughout the workshop.
Private Coaching*
I am available for private coaching for both acting and public speaking. 
As a speaking coach, I tend to work most with professionals and adults, but I have also had excellent experiences working with high school students.  I coach writing and delivery of the presentation preparation for interviews.  
As an acting coach, I focus on developing the actor's ability to offer personal presence and to make clear character choices.  I generally approach physicality first and script analysis second.
I am available for private tutoring through Wyzant:  https://www.wyzant.com/match/tutor/78298490
 *Rates are available upon request.
Puppetry Workshop with Valencia College's Actor's Gym: